Team: 

Ryan Griggs, Miringu Kiarie, Peggy Lu
Role:

 

Design Lead, UX Researcher
Summary:

 Our design is a centralized networking and resource platform that seeks to empower student, faculty, and staff veterans to engage with their fellow vets and find relevant resources during transition periods.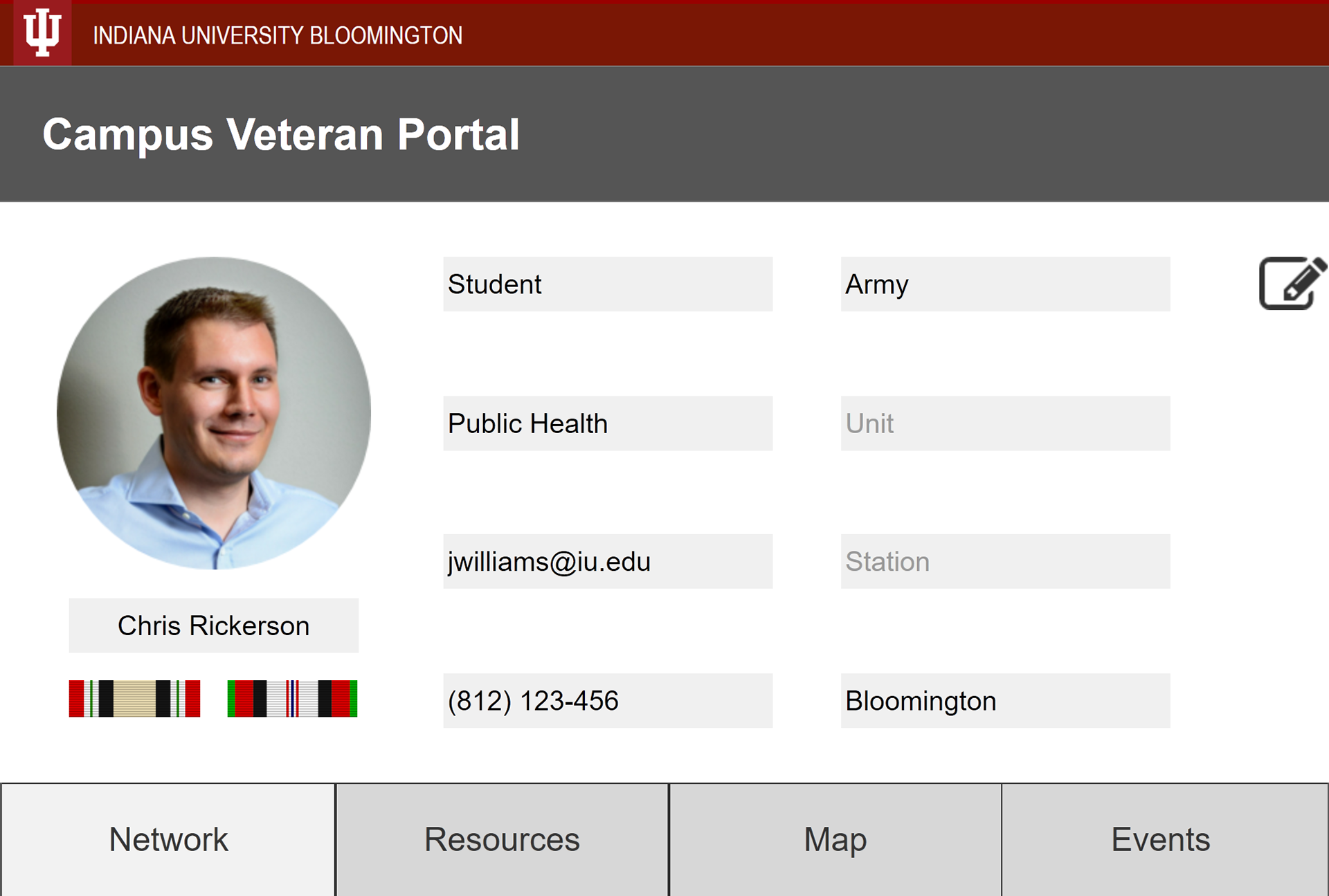 Responsibilities:
As the design lead for this project, my role was focused on facilitating the research, ideation, and design of the final product we prototyped. Along the way, I conducted interviews, sketched, and documented to create a solid experience flow for the final product.
Space:
Our team was asked with the CHI 2017 Design Competition: Leveling the Playing Field. This prompt requested we focus on a group that is often underrepresented or unaccounted for. We started by affinity diagramming things like groups, communities, societal problems, and questions. Then we narrowed to a group we could interact with throughout the project. From these constraints, we saw an opportunity in reaching out to student veterans about their experiences.
Process:
By engaging student veterans, the veterans office on campus, and the community office we were able to find that student veterans are often disconnected from the campus they attend. From knowing their fellow vets, to knowing what the "bursar's office" is, student vets often found themselves floundering for information due to decentralized information, especially as they transition back to civilian life. These insights built their way into various sketched sessions by the team and eventually into a platform that coordinated the information we found the veterans, and the offices, needed to be centralized.
Solution:
The design we researched and prototyped is meant for veterans at universities to connect with the campus, and other veterans. The product, a networking platform, provides a free space for military students and faculty to engage with the campus, find resources, and interact with their peers. Our testing garnered positive feedback, which also guided aesthetic and functional adjustments along the way. The project ended after one final round of testing where the users praised the usefulness and relevance to their lives as veterans, a win, to say the least for our efforts.
Notes:
This project gave me insight into how to go through a process of design from problem space to prototype. As design lead I was able to work with the team to develop ideas rapidly and evolve our concept from a simple brochure/map into something that could be developed and implemented directly into a network. I learned a lot about researching a population and the importance of finding out what users would actually do with a prototype along the way. Overall, this project is one of the deepest works I've done, and the insights I've gained from it have been vital to my growth as a designer.